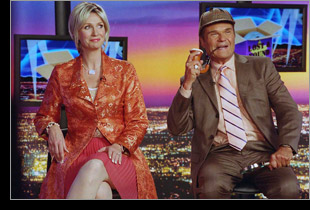 Since the breakout Rockumentary "This is Spinal Tap" Christopher Guest and his comically-talented friends have been cranking out a series of self-satirizing, improv-driven films that have been a delight for people both inside and outside the cultures being critiqued. Analyzing everything from community theater to dog shows to metal, Guest and company have probed into the heart of the absurdity of life with a quiet wit that is almost entirely commendable.
It was with this foundational respect for their brand of satire that I went into viewing For Your Consideration. If it is possible to be too self-referential in satire, they have accomplished such a task with For Your Consideration. There are certain aspects of the film that have redeemable qualities. The exploration into the sorry state of American film criticism with the preposterously ignorant notions of Don Lake and Michael Hitchcock as the Love It/Hate It film critics could perhaps become a textbook on the necessity of informed film criticism in our country. Additionally, the portrayal of entertainment television by Fred Willard and Jane Lynch was spot-on. Unfortunately, these two brief sections of the film contained almost the whole of quality cynicism.
The driving story-line surrounding Oscar buzz and the vanquished careers of aging actors contained too much redundancy and not enough wit. Perhaps for those actors who can relate to such feelings, this was an enjoyable and accurate reflection. For the rest of us it was tiresome. For a much more accessible portrayal of the Oscar obsession in Hollywood, see the first episode of Season One of Extras entitled "Kate Winslet." This episode accomplishes what For Your Consideration seems to have wanted to accomplish without the same sense of pomposity. A major part of the genius of the Guest catalog is the company's ability to satirize cultures that people who are not a part of such cultures can relate to. Such was not the case in For Your Consideration. Instead we were left with a couple hours of trivial rambling interrupted occasionaly by the brilliance that keeps us coming back to Guest films.
It is unfortunate that For Your Consideration was overly self-referential. Perhaps this topic is too close to home for the actors, resulting in an overly informed and elitist result. We can only hope that in the future Guest and company will return to a subject that maintains a calculated distance from the subject at hand. For this is the foundation upon which they have built their empire.